70 minutes long
Price: $20.00 (including shipping and handling)
ISBN 0-942391-86-1, # 060053
Now available on DVD! More information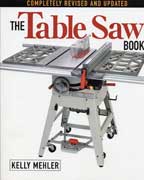 The Table Saw Book
Second Edition: Completly revised and updated
Written from the perspective of a furniture maker, this newest
edition of The Table Saw Book shows you how to get the most
out of this essential tool. More information
Price: $20.00 (including shipping and handling)
Taunton Press Publisher
Published 2002, ISBN 1-56158-426-6, # 070552




Build a Shaker Table DVD
You'll watch the entire process of making a traditional leg-and-apron
table, from stock selection to finish preparation.
75 minutes long
Now available on DVD! More information


Price: $20.00 (including shipping and handling)
ISBN 0-942391-30-6, # 060041

Contact Kelly Mehler P.O. Box 786, Berea, KY 40403 phone or fax (859) 986-5540
email:
kelly@kellymehler.com
.
© 2004 designed by Flying High Design.