Make Your Own Precision Layout Tools with Chris Schwarz
0
 Build 3 Wooden Layout Tools with Chris Schwarz - New!
July 20-21 (Full, please waitlist)
Cost $395
Materials: included
Skill Level – All
Participant Information
Build Your Own Precision Layout Tools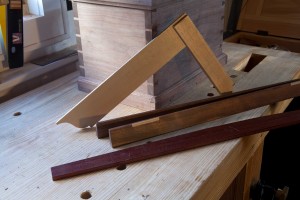 There are three wooden layout tools at the heart of every shop that incorporates handwork – the straightedge, winding sticks and the wooden try square. These seemingly simple tools are accurate, highly refined, lightweight and easy to keep true.
In this class, you'll learn to build these three tools. And the process of building them will also teach you a lot about using your hand tools to do extremely fine work. You'll learn to true edges so they are straight within .001" with a handplane. You'll learn hand mortising and fairing curves with chisels and rasps. Even a little inlay with a router plane. And in the end you'll have three tools that will last for several lifetimes.
All three tools are based closely on historical examples. The straightedge is from the pages of "Audel's Carpenters Guide," the winding sticks are copies of mahogany originals from the 19th century, and the magnificent try square is an exact copy of the one shown in A.J. Roubo's "L'Art du Menuisier."
This class is ideal for anyone entering the world of handwork, whether you have been involved in the craft for a week or most of your life.
Christopher Schwarz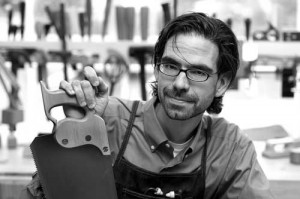 Christopher Schwarz is the editor of Lost Art Press, a publishing company that specializes in producing books and DVDs on hand woodworking. He was an editor at Popular Woodworking magazine for almost 15 years where he worked to rebalance the scales of media coverage of handwork and machine woodworking. He is now a contributing editor for Popular Woodworking and The Fine Tool Journal. Chris is the author of six books on handwork including "Workbenches: From Design & Theory to Construction & Use" and "The Anarchist's Tool Chest." He is a long-time woodworker – he built his first workbench when he was 11.