Participant Information – Wood and Milk Paint: Design, Build, and Finish a Versatile Wall Cabinet with Nancy Hiller
1
Tools and Materials and Participant Information
Students who have them and can should bring;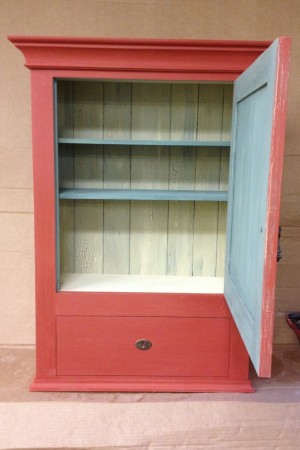 Biscuit joiner (school has 1)
Number 10 or 20 biscuits (school has)
Safety glasses, hearing protection, dust mask
Tape measure or rule
Chisels: ¼", ½", ¾"
Wooden mallet
Smoothing plane
Block plane
Random orbital sander and discs (school has)
Drill (school has)
Drill bits (bring a variety)
Tenon saw
Marking knife
Marking gauge
Hammer
Nail sets
Brads or wire nails: ¾", 1", 1-1/2"
Router
Router cutters, if you have them: ¼" beading cutter (for example, "Woodcraft- Beading Router Bit," but note that this one has a ½" shank, ¼' shank is available on the same page if needed); rabbet cutter; ½" radius cutter; ¾" radius cutter if you have one.
(If you prefer to bring a small, portable compressor, air hose, and pinner or brad nailer, please feel free, but be sure you remember to bring the pins or brads.) There is a compressor at the school.
Complete Cabinet Kits are available from Nancy for about $300 (depending on hardware choices)
Or bring your own as listed below-
Lumber and rough cutting list
Complete Student Kits will be available from Nancy for about $325 depending on the choice of knobs.
These kits need to be ordered no later than June 30, 2015
Poplar milled to 7/8" (We will do final milling and cutting to size during the class.)
Sides                                        2 – 10" W x 40" L
Top, bottom, shelves             5 – 10" W x 24" L
Door frame                              2 – 2-1/2" W x 24" L
1 – 3-¼ W" x 20" L
1 – 2-½" W x 20" L
Door panel                              1 – 16" W x 20" L
Drawer                                     1 – 6" W x 60" L
Drawer bottom                       1 – 10" W x 20" L
Backboards                              6 – 5" W x 40" L **
Crown and foot molding        1 – 8" W x 60" L
** These will finish at ½" thick. They need not be 5" wide; they can be random widths provided that the total combined width is about 30" at 40" long. The backboards will be rabbeted on both edges, hence the need for more width than the final net width of the cabinet.
Door and drawer pull suggestions:
As for other materials, we'll have most of what you'll need. But if you want to inlay something unusual — exotic or native, curly, figured, birdseye, crotch  — bring it along. I'll bring some as well.
Lie-Nielsen Toolworks extends a 10% discount to our students, please contact them for more details.
A fully catered lunch is served every day and drinks and snacks are provided all day. Please let us know in advance of any special dietary needs.  It is a good idea to make your lodging reservations well in advance.
Call or email me or Kelly with any questions on tools, materials or design and please check the web site for any updates.
www.kellymehler.com  |   Kelly Mehler (859) 986-5540   |     kelly@kellymehler.com