Participant Information – Chippendale Chair Class
1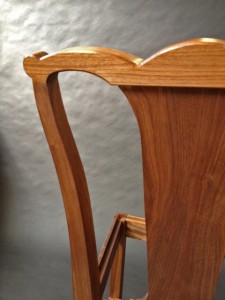 The total materials cost for Walnut Chair kits are $160.
Please bring a check for Jeff Miller to class.
Tool List for the Chippendale Chair Class
Planes:
#4 smoothing plane
block plane or #2 smoothing plane
router plane
shoulder plane
flat bottom and curved bottom spokeshaves
optional: jointer plane, compass plane
Chisels:
A set of bench chisels
3/16", ¼", and 5/16" mortise chisels
Saws:
 Tenon saw (rip)
Crosscut saw
Small flush-trim saw (I like the Lee Valley kugihiki saw)
Card scraper, file, and burnisher
Carving gouge #7 sweep, somewhere in the range of 11 to 14 mm wide
Rasps – medium/fine cabinetmaker's rasp
Marking gauges. It will help to have more than one. I prefer the type with the cutting disk or a knife to the ones with points.
Square
Bevel Gauge
6" and 24" rules
.5mm and regular pencils
Safety gear: eye and hearing protection, dust mask
Lie-Nielsen Toolworks extends a 10% discount to our students, please contact them for more details.
A fully catered lunch is served every day and drinks and snacks are provided all day. Please let us know in advance of any special dietary needs.  It is a good idea to make your lodging reservations well in advance.
Call or email Jeff with any questions on tools, materials or design and please check the web site for any updates.
handcraftedfurniture@comcast.net
www.kellymehler.com  |   Kelly Mehler (859) 986-5540   |     kelly@kellymehler.com