Participant Information – Campaign Trunk with Chris Schwarz
1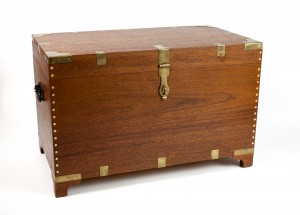 Tool list:
Typical marking/measuring tools
Cordless drill, breast drill or heavy hand drill
Set of brad points
Drill/countersink bits for a No. 8 screw — preferably with a depth stop, such as:
A new Vixen file, typically for auto body work. I get mine at McMaster-Carr:
Smoothing plane
Block plane
Chisels
Mallet
Small router plane
Hammer (16 oz.)
Nail set
Screwdrivers for slotted screws (I recommend Grace USA drivers or gunsmith bits from Brownells.com)
Shoulder plane (3/4" or wider)
Attendees should bring their own lumber, surfaced and cut slightly oversized.
If you need a kit please call or email for a price.
Cutting list:
No.      part                     sizes (inches)
………………………….T    X   W    X   L
2     Front & back     ⅝   X  14-¾  X  26
2     Ends                   ⅝   X  14-¾  X   14
1     Top                      ⅝  X  14-⅝  X  26
1     Bottom               ⅝  X  14-¾  X  25-1/4
8     Bracket feet       ⅝  X  1-⅞  X   3
4     Glue blocks        ⅝  X   ⅝  X   2
Liner                           ¼  X   2  X     80
Suggested species
: Walnut, cherry, oak, mahogany.
Hardware for Campaign Trunk
Brasses to Purchase:
Lee Valley Tools
Pressed Chest Strap
You need 10 of these, plus No. 3 slotted screws.
2" x 5/8" Chest Corners
You need four, plus slotted screws to install them.
2-1/2″ x 1-3/8″ Narrow Extruded Butt Hinges
You need 1 pair plus No. 6 screws to attach them.
Hasp
I don't have a good source for the hasp yet. I had mine made custom (very expensive). Will advise.
Iron chest lifts
Again, I had mine made by a blacksmith. I'll try to get a source for the students.
McMaster-Carr
No. 8 x 1" slotted brass screws
You will need two boxes of 50 (100 screws total).
Note, this is an ideal place to purchase brass slotted screws for the Lee Valley hardware above.
Lie-Nielsen Toolworks extends a 10% discount to our students, please contact them for more details.
A fully catered lunch is served every day and drinks and snacks are provided all day. Please let us know in advance of any special dietary needs.  It is a good idea to make your lodging reservations well in advance.
www.kellymehler.com  |   Kelly Mehler (859) 986-5540   |     kelly@kellymehler.com