Online Store
Books, Videos and DVD's by Kelly Mehler
$20 each or any three for just $55 
Shipping and handling are included in the prices.
Mastering Your Table Saw Video
The Table Saw Book
Build a Shaker Table video
Named Best Craft Video of the Year

Mastering Your Table Saw DVD
with Kelly Mehler
Using this cornerstone machine to its full advantage.
If you do woodworking, the table saw is one of the cornerstone machines in your shop. This video shows you how to get the best out of this essential tool. You'll learn about the differences between table saws. You'll discover how to choose the right one for your working style, you will learn how to set up a table saw correctly the first time and adjust it so that it runs safely and efficiently
In this video basic table-saw techniques are demonstrated, including crosscutting and ripping, and how to handle special situations such as oversized and undersized stock.You will also see how to make woodworking joints with the table saw and how to build jigs and fixtures that will make your work on the table saw easier and more accurate.
This video is a visual companion to the The Table Saw Book or it is equally useful as a stand-alone illustration of table saw use.
The video is 70 minutes long.
Price: $20.00 (including shipping and handling)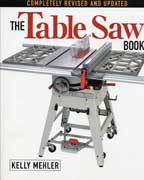 The Table Saw Book (2nd edition)
by Kelly Mehler
Revised and updated
Written from the perspective of a furniture maker, this newest edition of The Table Saw Book shows you how to get the most out of this essential tool. This comprehensive shop reference is a revision and update of the successful first edition and now features color photography throughout. The newest table saws and European and combination machines are covered for the first time.
You'll learn what to look for in choosing a table saw and accessories (including saw blades) and you will learn valuable tips on setting up a table-saw work area in your shop. You can see how to tune and maintain the saw for smooth, accurate, and safe operation.
There are clear, step-by-step instructions, on how to handle oversized and undersized stock and how to produce precise, repeatable joints and parts. Examples are given for building practical jigs and fixtures to improve the safety of your work and get true and accurate cuts every time.
* Table of Contents
* Introduction
Softcover, 8 x 10 in., 208 pages, with color photos and drawings
Price; $20.00 (including shipping and handling)
Taunton Press Publisher
The compainon Mastering Your Table Saw video enhances the concepts discussed in the book with rich visual information and demonstration.
From stock selection to final detailing.
You'll watch the entire process of making a traditional leg-and-apron table, from stock selection to finish preparation. Through the processes used in the video you'll learn techniques for any furniture project you want to tackle.
For example, you will learn about:
selecting and milling wood
laying out, jointing and gluing tops
milling and tapering legs
mortising and tenoning
fitting joints
gluing up a table base
sizing and smoothing a top
edge treatments
final detailing
Much more!
Best Craft Video of the Year American Video Conference
Video length is 75 minutes
Price: $20.00 (including shipping and handling)