Darrell Peart's Aurora End Table Tools & Materials List



Suggested Tool List:

* Small square (4" or so) or square saddle
* Layout & measuring tools (square, tape, sharp pencil etc.)
* Steel hammer
* Small plastic headed mallet
* 3/16" - 1/4" - 3/8" square hollow punches
* related ( 3/64" under hole size) drill bits - at least 4 -inches long
* Dental pick or machinist scribe
* Whatever hand tools you are comfortable with and normally use
* Also - feel free to bring a camera to record the process

On the square hollow punches (available Lee Valley Tools) - I will bring an extra set for class use. The dental pick or machinist scribe may or may not be needed - I will have some available for use.
Wood Kits are available from the school for $390.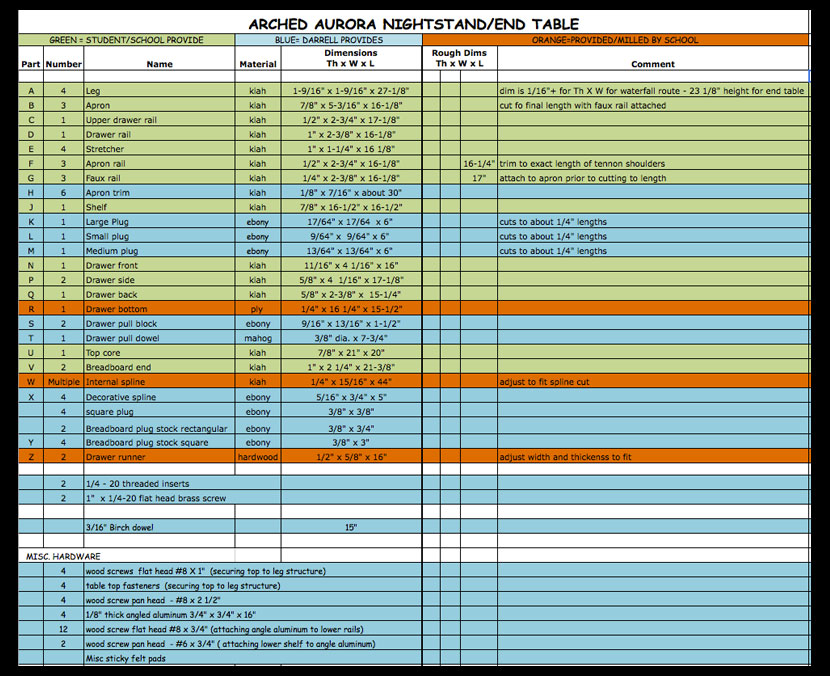 A fully catered lunch is served every day and drinks and snacks are provided all day. Please let us know in advance of any special dietary needs. It is a good idea to make your lodging reservations well in advance.
Lie-Nielsen Toolworks extends a 10% discount to our students. Please contact Lie-Nielsen for more details.
If you have questions, please feel free to call or email Kelly
(859) 986-5540 kelly@kellymehler.com