Wood and Milk Paint: Design, Build, and Finish a Versatile Wall Cabinet with Nancy Hiller
0
"Wood and Milk Paint: Design, Build, and Finish a Versatile Wall Cabinet" with Nancy Hiller – New!
August 3-7
Cost $850 (Includes all finishing materials)
Skill Level – Beginner to Advanced
Click here for:
Materials/Tools and Participant Information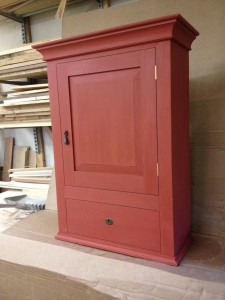 Wood and Milk Paint: Design, Build, and Finish a Versatile Wall Cabinet with Nancy Hiller
Everyone can use a stylish wall-hung cabinet, especially one that's versatile in its potential uses, incorporates hidden compartments, and is finished with milk paint. (And if you don't need another cabinet, this one will make an impressive gift.)
This 10-inch-deep cabinet provides efficient storage while occupying very little space. It's ideal for
the shop: to store smaller tools and supplies, notebooks, etc.
kitchen: to store glasses and dishes, or spices and condiments
office: for books, office supplies, and incoming/outgoing mail (yes, some of us still use paper and stamps; someone has to keep the Postal Service in business)
bathroom: for toiletries and supplies—among other possible uses.
The cabinet we build in this class will be approximately 24" wide by 36" tall. You will have the option of customizing your cabinet in terms of accoutrements; for example, you may choose to incorporate mail slots or simply an open shelf in the low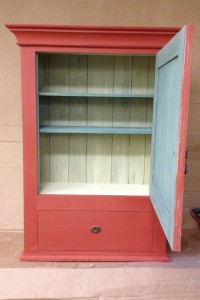 er section instead of a drawer.
The cabinet will be constructed of solid wood using a variety of traditional and contemporary techniques including mortise and tenon joinery, biscuit joinery, raised panels, hinging and hanging a door, etc.
The focus of this class will be equally devoted to finishing techniques using milk paint, such as
opaque, single-color finishes
adding sheer color
distressed finishes using more than one color
making new wood look old
decorative painting (e.g., lettering or creating lines)
crackle finishes
making a brand-new fiberglass door look like century-old painted wood
durable protective top coats.
Each day will begin with demonstrations of milk paint techniques in different colors. Students will make up sample blocks for each technique—a great resource to keep for future reference in your shop. By the time you've built your cabinet and are ready to paint it, you will have a variety of techniques to choose from.
Click here for:
Materials/Tools and Participant Information
About the Instructor
A City & Guilds of London-trained furniture maker, Nancy Hiller has worked professionally in furniture and cabinetmaking shops in England and the United States for over 30 years. Since 1995 she has operated NR Hiller Design, Inc. (www.nrhillerdesign.com), specializing in period furniture and built-ins for homes and offices from the late-19th through mid-20th century. Her furniture, cabinetry, and writing have been published in Fine Woodworking, Fine Homebuilding, Old-House Interiors, and Arts & Crafts Homes and the Revival magazines, in addition to several Taunton Press special interest publications. She is also the author of two books: The Hoosier Cabinet in Kitchen History and A Home of Her Own, both published by the Indiana University Press. Her academic background is in religious ethics. Nancy lives in Bloomington, Indiana, where she is active in historic preservation. See her Fine Woodworking article ("The article is published on Nancy's website with explicit permission from the Taunton Press,") on milk paint at Rediscovering Milk Paint.