Participant Information – Decorative Details with Garrett Hack
1
Tools and Materials for Decorative Details with Garrett Hack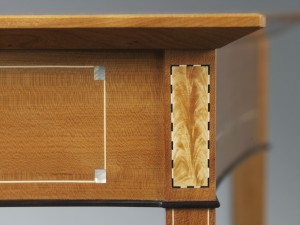 Dear Decorative Details class,
You've chosen one of my favorite classes, one that will definitely expand your woodworking knowledge and design skills. We are going to have a lot of fun, too.
I expect to start each day demonstrating a technique and making some of the necessary tools.  We'll talk about ways to use each detail, and the variations possible.  Most of the day will be yours to work — on a sample board of decorative details.  The advantage of working on a sample board is that you can experiment freely, more than you might if you were making a specific project.
The most important preparation for this class is to get your tools in order. This list is what I would consider the basics — the tools that I use day after day. The school has some of these tools for your use. Bringing your own is still best.

Hand tool list:
Set of 4 – 6 bench chisels

  – 1", 3/4", 1/2",  1/4" — the more sizes the better. I have no favorite chisels, but the blue handled Marples are adequate and inexpensive. So are the shorter Ashley Iles (Toolsforworkingwood.com). Lie-Nielsen's new chisels are very nice. If you are curious about Japanese tools, buy a couple of chisels to try. A collection of flea market chisels is fine — and you might find some beauties. We'll make some micro chisels.
Mallet

– Make one if you can't find one you like. The standard hammer type is okay, or a round one shaped like half a rolling pin.
Fine bladed marking knife

– Less than a buck and widely available, retractable plastic knives with breakoff blades are great.
6" or 12" squa

re

– An adjustable square is fine — the blade is a useful straight edge — but so is a fixed square. I carry a 6" square in my pocket for many uses besides checking squareness.  Buy the best square you can afford; my first choice for any precision measuring tool is a Starret.
A #4 and/or #5 bench plane

– Some of you will prefer a smaller plane such as a #3, or a wider #4-1/2. This is a tool that you will rely on constantly for a whole range of smoothing, cutting bevels, jointing short surfaces, and on and on. The least expensive are Record or flea market finds. Avoid Stanley Handyman and cheaper planes — they will be constant frustration. Older Stanleys can be very good, and work even better with a thick replacement iron (Hock or Lie-Nielsen). If you can afford them Lie-Nielsen makes superior tools that need little tuning and feel wonderful right out of the box. Buy iron not bronze. Lee Valley and Clifton make good planes for less money.

Low angle block plane

– The Stanley and Record will work, but the Lie-Nielsen #60-1/2 (adjustable mouth block plane) is far far superior. They also make a low angle bronze (#102) for less money, but it is not as versatile as the larger #60-1/2. If you buy yourself only one new tool for this class, make it the L-N #60-1/2

low

angle. I mean it.
Hand (card) scrap

er

– I prefer thicker scrapers over the very flexible thin ones. One should last nearly a lifetime.
Burnisher

– oval or triangular, for tuning scrapers and easing in string inlays. I made mine out of old files.
Fine toothed dovetail or small backsaw

– Any backsaw will work for cutting small pieces for inlay work: the finer the saw the better.
6 or 8 or 10" mill file

and

round chain saw file

, any size fine. We'll use these to make scratchstocks.
Now for perhaps the most important items:

sharpening stones

. I highly recommend bringing your own set of stones. Sharpening is tedious, but vital.  Your tools will sharpen more quickly and better on the same set of stones day after day. Own a set of stones and you will learn how to use them most effectively, and how to maintain them.
The question is: do you use water stones, oil stones, or some combination along with diamond stones?  I use oil stones — mainly because that is what I started with — and a diamond stone for coarse honing.  But I sometimes use water stones and I like them. They take almost daily care compared with maybe three times a year for my oil stones. I think the  Norton water stones are very good. They are large, wear a little more slowly than some, and they cut fast. Buy the two stones with four grit combinations: 220/ 1000, 4000/ 8000, or all four as separate stones if you want to go big time. The new Shapton stones are also highly recommended (1000, 5000, 8000, 12000).
Whatever you get, buy at least a medium and fine stone. Some people like the sandpaper method, but you still need a fine stone. Don't worry about strops; I'll demonstrate making very fine diamond hones on hardwood, which are far superior.
As for materials, we'll have most of what you'll need. But if you want to inlay something unusual — exotic or native, curly, figured, birdseye, crotch  — bring it along. I'll bring some as well.