FULL "Coopered Cabinet" with Garrett Hack
0
"Coopered Cabinet" with Garrett Hack – FULL
 Click on waitlist or please choose another class
May 25- May 29
Cost $825
Skill Level – Intermediate to Advanced
Click below for:
Materials/Tools and Participant Information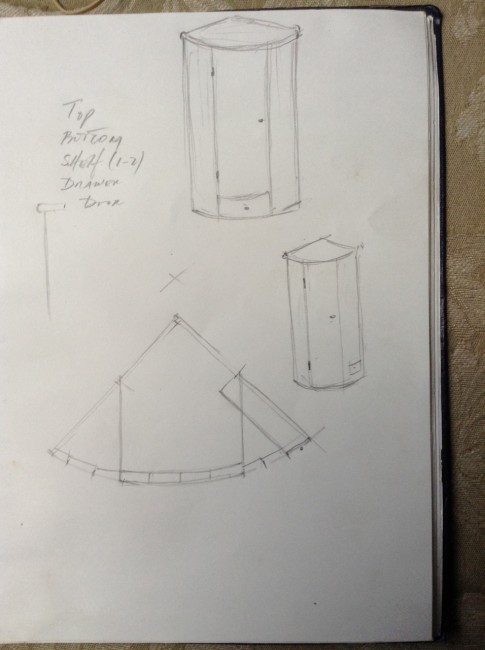 "COOPERED CABINET" – Garrett Hack
The technique that gives barrels, boats, and bongos their interesting curved shapes is essentially coopering – joining together individual staves or planks. Coopering is an efficient way to create simple to complex curved forms – an idea we will explore as we  build a small hanging cabinet.
What makes this a fun project is the variety of the curves and surfaces we can create just by how we shape our staves, taper them, or detail them with beads or shallow coves. Beyond the interesting curved facade of our cabinets, we have the practical concerns of supporting a shelf or two, building a curved door, and adding a fun drawer with a laminated front. Additionally, our cabinets will need some some sort of moldings at the top which may also be curved.
You will work a lot with hand tools to shape and join the staves, smooth the flat backboards and shelves, adjust joints, and maybe even to "raise" a curved door panel.
Design is  an ongoing part of our discussions as we look at where the useful technique of coopering can lead. You may find that there are a multitude of  possibilities!
Click below for:
Materials/Tools and Participant Information
About the Instructor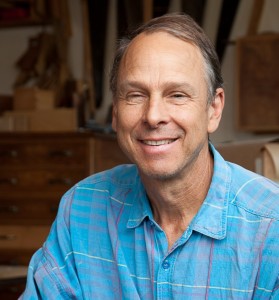 Garrett Hack's earliest memories are of sawing and hammering. So naturally he became a furniture maker after first pursuing civil engineering and architecture at Princeton University in the early seventies. Later study at Boston University's Program in Artisanry influenced his style of contemporary designs based on classic forms. Internationally known, Garrett's work and his Federal-inspired brick shop have been featured in numerous books and magazines. He is a contributing editor at Fine Woodworking, former chairman of the New Hampshire Furniture Masters, and he teaches throughout the U.S., Canada, England. Germany, Italy, Austria, and Japan.  Hand tools are integral to Garrett's work. He wrote The Handplane Book and Classic Hand Tools (Taunton Press (1997, 1999) about these essential hand tools. Visit Garrett's website at Garrett Hack.com