FULL "Building a Handmade Chippendale Chair" with Jeff Miller
0
Building a Handmade Chippendale Chair with Jeff Miller – FULL CLASS
PLEASE CHOOSE WAITLIST OR 2ND CHOICE
June 8-14
Cost $975
Skill Level – Intermediate
Click below for:
Materials/Tools and Participant Information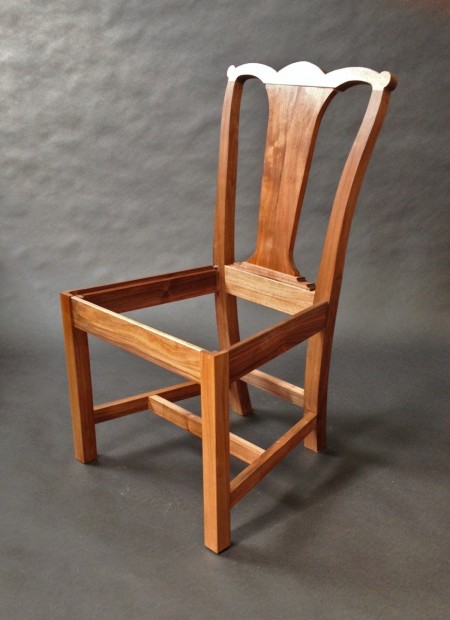 Building a Handmade Chippendale Chair with Jeff Miller
The Chippendale style of chair is uniquely elegant. Individual examples can be highly ornate or rather austere and almost modern in appearance. Jeff's version of the chair tends towards the latter, but it has all of the same "bones" of a more elaborate period piece. Mastering the basic construction will allow you to go wherever you choose with this style.
This is a challenging project, done mostly by hand, although there will be some bandsaw use. But Jeff has carefully worked out methods and a process to make this all possible for a woodworker who feels comfortable with mortise and tenon work.
Starting with a kit of parts prepared in advance, we'll use planes, and chisels, and we'll learn to master spokeshaves and the router plane. Jeff will also bring along a few less-familiar tools resurrected from the 19th Century.
Jeff will guide you through chopping and paring mortises and angled mortises, sawing out the tenons, shaping the legs and the faceted side rails and stretchers, and dealing with the intriguing curves and angles of this classic chair.
You'll learn how to approach a chair project, and a versatile process for dealing with its complexities. And you'll come away with a classic and elegant showpiece.
Click below for:
Materials/Tools and Participant Information
About the Instructor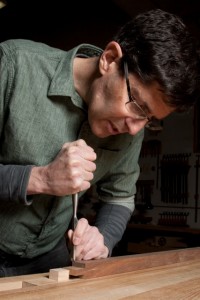 Jeff Miller turned to designing and making furniture after a career as a classical musician. His furniture has been in shows around the country, has won numerous awards, and is in the collection of the Chicago History Museum. Jeff is a prolific writer: his most recent book The Foundations of Better Woodworking (Popular Woodworking Books) was released in November of 2012. His book, Chairmaking and Design (Linden Publishing) won the Stanley Award for Best How-To Book of 1997, and his companion video Chairmaking Techniques won best video as well. He has also written the books, Beds, and Children's Furniture and has contributed chapters to Furniture for All Around the House, and Storage Projects for All Around the House, all for The Taunton Press. Jeff is currently working on a practical guide to furniture design, scheduled for release by Lost Art Press in late 2015 or early 2016. Jeff is a frequent contributor to Fine Woodworking and Popular Woodworking magazines. He is also an active teacher at woodworking schools all across the country.