"Build a Lady's & Gentleman's Tool Chest" with Mario Rodriguez
0
"Build a Lady's & Gentleman's Tool Chest" with Mario Rodriguiz – 

New!


July 20-25
Cost $825
Skill Level: Intermediate
Click below for:
Materials/Tools and Participant Information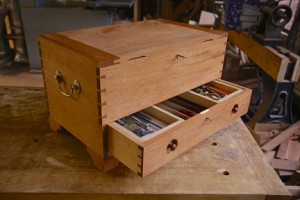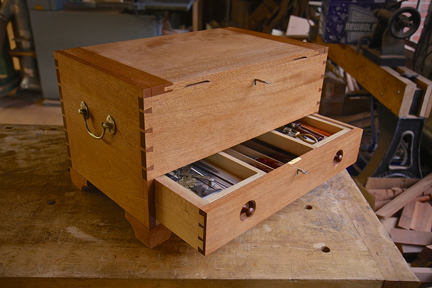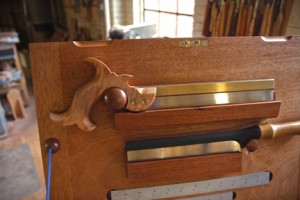 Many of us have a small selection of special tools that we prize- and use more than any others. Those tools are often a selection of antique, new, and specially tuned tools that you depend on for consistent performance and flawless results, carefully collected over the years. These special tools deserve special treatment and protection so that they will continue to remain in good condition. There is no better way to protect these tools and have them handy than to store them in a handsome tool chest of your making.
Join us to build a traditional-style tool chest, compact yet commodious, that will become the perfect home for your (most) prized hand tools. Measuring 11" x13" x 22", you will  create through-dovetails to join the chest. A single drawer at the bottom of the chest is perfect for storing and protecting chisels and small specialty planes. The well can accommodate bench planes. Measuring and markings tools will fit nicely into a shallow sliding tray just above the well. Small hand saws can be mounted on the underside of the lid. The chest is mounted on bracket feet and fitted with locks and chest handles.
The skills that you learn in this project have many other applications, making this class a versatile learning experience.
Click below for:
Materials/Tools and Participant Information
About the Instructor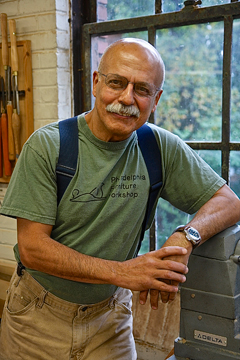 Mario Rodriguez has enjoyed over 30 years in woodworking. Currently with the Philadelphia Furniture Workshop, Mario has experience as a builder/maker, teacher and writer. He earned a bachelor's degree in Art and Applied Design from H. H. Lehman College, and then began a four year apprenticeship with the Carpenters & Cabinetmakers Union in New York City, receiving his NY State certification in 1978.
After graduation and work in the field, Mario established his own shop in Brooklyn, NY serving the area's leading architects, designers and collectors. His shop handled projects that included new construction, renovation, millwork, furniture restoration and refinishing, architectural woodwork, and fixtures and furniture reproductions. His work has been featured in Architectural Digest, Country Living, House Beautiful, Metropolitan Home, Hudson Valley, McCalls, Fine Woodworking and the New York Times.
Mario has taught in the Restoration Department at the Fashion Institute of Technology in New York City for 14 years, and in many of the leading woodworking schools in the country.
From 1992 to 1997, Mario directed the Warwick Country Workshops from a small barn behind his Federal period farmhouse. These specialized classes were devoted to traditional hand tool topics such as hand cut dovetails, carving a ball-&-claw foot, hot glue hammer veneering and planemaking. Today, he still speaks at regional woodworking organizations and clubs.
For the past 23 years, Mario has written extensively for the leading woodworking magazines (Fine Woodworking, Fine Homebuilding, Home Furniture, Popular Woodworking and American Woodworker), primarily focusing on traditional hand tool techniques and projects. He has written two books: Traditional Woodwork and Building Fireplace Mantels, both published by Taunton Press.
In addition to his work at PFW, Mario continues to write, pursue woodworking topics of interest and execute projects for architects, builders and designers. And now he is a proud Army dad!
Some of Mario's work can be seen on the Fine Woodworking website at-www.taunton.com/finewoodworking/Community/ArtistProfile.