FULL "Build a Two-Drawer Shaker Side Table" with Kelly Mehler
0
"Build a Shaker Side Table" with Kelly Mehler –  Class is FULL 
Sign up on the waitlist or please choose another class.
April 13-18
Cost $825
Skill Level – Intermediate
Click below for:
Materials/Tools and Participant Information
This Shaker-inspired table has a multitude of uses waiting to be found! This piece pairs nicely with many types of decor where its classic simplicity and enduring clean lines create visual harmony.
Having seen a photo of this piece at Kelly Mehler's School of Woodworking, numerous participants have requested this class. (Hint: One long-time requestor in particular is pictured in the Participant Information for this class!)
Kelly orginally built a variation of this two-drawer cherry table for a customer in 1995. The table was based on the original piece from the Alfred Shaker community in Maine, now part of a Shaker collection in the Philadelphia Muesum of Art. The original was built between 1850 and 1900 of cherry and white pine. You will have some wood choices that suit your needs and preferences.
The design of the table is clearly straightforward, and so are the broadly-applicable techniques used in the construction of your table.  You will create square, tapered legs that are mortised to receive tenons on the ends of the rails. The aprons are pinned to ensure joint security. You will learn how to fit drawers with handcut dovetails and with solid bottoms and thumb moulding on their front edges. You will use a combination of hand tools and machine tools to fashion the unusual curve where the  square part of the leg begins to taper. The techniques that you will use throughout this project will assist you in making other tables and case good pieces in your own shop.
So now let's have some fun as you join Kelly in building this well-designed table.
About Kelly Mehler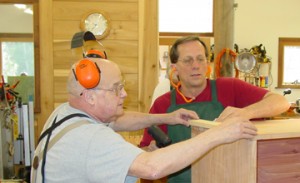 Kelly Mehler's professional woodworking career spans over 36 years. Kelly opened his custom furniture-making shop in 1978 in Berea, Kentucky. Kelly's work features finely crafted pieces created to emphasize the beauty of the natural color and grain of hardwoods. His signature solid wood pieces use figured and matched wood that has been carefully air dried and are typically sawn from a single tree. Kelly selects wood carefully, primarily from the abundant forest resources of the Appalachian region.
Kelly has lectured throughout the United States for woodworking guilds and a variety of trade shows. He is the author of The Tablesaw Book (1992/2002, Taunton Press). Kelly is featured in two Fine Woodworking videos, Build a Shaker Table With Kelly Mehler, and Mastering Your Tablesaw. Kelly has contributed numerous articles to Fine Woodworking magazine, and has been published in Wood magazine (Better Homes and Gardens), American Woodworker, Popular Woodworking, Woodworker's Journal, Custom Woodworking Business magazine, and in the Time / Life woodworking book series.
A commitment to advise and educate woodworkers and manufacturers on tablesaw safety remains a strong interest of Kelly's. Kelly has worked with the Standards Technical Panel of Underwriter's Laboratory to encourage safer tablesaw guarding for all users.
Kelly's experience as an instructor and his extensive knowledge of joinery and shop techniques make his teaching useful to participants at all levels of woodworking expertise.