"First Things First Box" with Allan Breed
0
"First Things First Box" with Allan Breed - New!
April 1-6
Cost $825
Skill Level: All
Participant Information
Learn a variety of ways to use basic hand tools in this 6 day class class. Your learning centers around a dovetailed box that you will create that features straight and carved molding, a veneered sliding lid, a blocked end panel and a simple carved scallop shell. Made completely with hand tools, this is an ideal project for you to experiment with the carving and scraping of moldings and the uses of various planes such as dado, molding, smoothing, and rabbet planes. We will also work on block front construction, hammer veneering and the uses and modifications of several key carving tools. At week's end, you will take home a lovely box measuring approximately 4x4x12 inches that shows off a ton of skills.
About the Instructor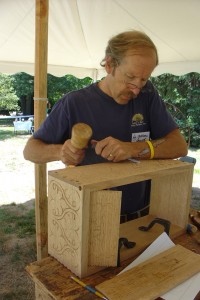 Allan Breed  became interested in history at an early age while accompanying his father on archaeological digs around the north shore of Massachusetts. Later interests in early American glass, architecture, and then furniture led to a job in the restoration department of the Museum of Fine Arts in Boston at the age of 19. After graduating from college in 1976 with a degree in history, Allan began doing restoration and then full time reproduction furniture making in 1977 in Portsmouth, NH. Since then, Allan has been creating architectural carvings, making reproduction American furniture for collectors and museums, and lecturing and writing on furniture connoisseurship and construction. He has taught at the education departments of  Christies and Sothebys  and, in addition to his commission work, currently teaches carving and cabinetmaking at The Breed School in Rollinsford, NH.